Borgo Cadonega Relais & Spa: my all-round wellness experience in Emilia Romagna
The warmth of the sauna and the scents of the wood while, in my bathing suit, I watch snow softly flapping outside the window.
This is the first image that comes to mind when I think back to my ecoluxury weekend just spent at Borgo Cadonega Relais & Spa. The coldest and snowiest  weekend of the year … and I couldn't have chosen a better time, nor a better place to spend it!
Hidden among the hills of Emilia Romagna, in Viano, in the province of Reggio Emilia, stands a beautiful historic home that belonged to the Estensi family, now converted into an elegant hotel with spa and restaurant.
Borgo Cadonega: eco-luxury accomodation where history meets wellness
The imposing tower house, built in the 14th century, is surrounded by a spacious garden, and I cannot wait to go back in springtime to stroll down the alleyway marveling at the first blooms!
The first thing I noticed when entering the building is the delicate merge of ancient and modern, juxtaposing the exposed-beam ceilings and the glass elevator, the fireplaces and antique furniture and some design objects.
A well thought out choice of style and, in my opinion, never conflicting. Even in the name (ca 'dominica, the house of the landlord) this place bears the marks of its nobility. A marvellous sustainable accomodation, respecting its origins and it natural environment.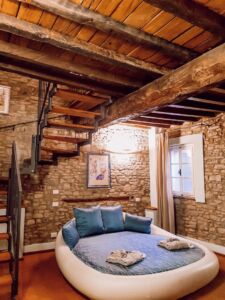 The 9 charming rooms are not called after numbers, but after words related to the territory and they are all different from one another, all with a unique atmosphere.
During the two days I spent at Borgo Cadonega Relais & Spa, I had the pleasure of sleeping in two of my favorites:
Each room is also embellished with original works by Alinari, Joan Mirò and Valerio Adami. The suite is called "Piccionaia" because you can still see the holes where pigeons took refuge (obviously all cleaned up and no longer usable). A curious and authentic detail!
I love how the pristine white sheets stand out against the wood!! It really makes me picture myself in a daily life of many many years ago. This is exactly what I mean by eco-luxury travel!
The two-story Spa of Borgo Cadonega 
Next to the main house, what was once a barn has now become a modern two-story spa, finished in antique oak: downstairs we have sauna, turkish bath, emotional showers, whirlpool and two relax rooms with herbal teas; upstairs we find the cabins for massages and treatments, including a beautiful "private spa" tailored for couples, with a Jacuzzi and private turkish bath, a double-bedmassage room … and a lovely view onto the garden. In this case all covered with snow!
The main house and the spa are connected by an underground corridor, so you can easily spend all day in slippers and bathrobe (provided) !! Moreover, this is the only spa on the hills of Reggio Emilia!
Borgo Cadonega Spa offers a very rich and unusual "Treatments Menu": volcanic sand bendage, white flower masks, scrub with Dead Sea salt crystals, cupping, plantar reflexology, Hawaiian massages … they only use Bioline products, an excellent family-run company from Trentino funded in 1979 that works with pure active ingredients extracted from nature in the entire production chain. Truly a high quality partner!
I also have to admit that I was incredibly surprised during my treatment by the touch and hands of Spa manager Federica Mariani: I've never felt such a soft skin!
Their innovative approach to traditional Emilian recipes
To complete the all-round wellness experience of Borgo Cadonega Relais & Spa, an excellent restaurant awaits us!
On the ground floor, where breakfast, lunch and dinner are served, once cheese and bread were made and other foodstuffs were kept, as the owner of the complex explains to me.
As you may have guessed, I couldn't miss the opportunity to ask him more details about the renovation of the building and its history, and so I find out it took 6 years of work to bring the old farmhouse back to life and make it what it is today. Woah, impressive!!
Further down, about halfway through the restaurant, he points out to me a sort of arch, explaining that this was a staircase that led to the houses above. At the back of the room we find a well for the water, and going down a few steps we enter the wine cellar with some quite remarkable bottles!
Another beautiful detail inside the dining room is the old oven, which is still being used by the kitchen!
And finally, a small "secret" detail that perfectly seals the history of this place: an original tile on which year 1660 is engraved.
Sorry for talking at length every corner of the restaurant, but as you may know I love to dig into the history of a place through its walls and its objects, so that I can really appreciate and understand the experience that I'm living.
Back to us, back to the present, let's talk about the cuisine that you will find at Borgo Cadonega: the visionary chef Andrea Fanti and his impeccable team propose real artworks that revisit ancient traditional Emilian cuisine in a wellness key!
Their mantra, which they seem to have read in my mind, is: continuous research of ingredients of the highest quality and exclusively of Italian origin; constant study of the best cooking techniques that maintain all the properties of food without altering the flavors; total ban for additives, preservatives and chemical processes; 100% internal production from flour to pasta, to chocolate!
Being a wellness blogger I totally love this!!
An innovative approach in full respect of traditional taste … just like the spirit and philosophy of everything Borgo Cadonega Relais & Spa!
To say that I ate divinely would be simplistic … I will let the pictures I took speak. Each dish was accompanied by delicious local wine because, as Chef Andrea Fanti explains, every meal should be an experience.
After each meal I enjoyed chatting with Andrea and his team, already at work to prepare, from scratch, the creations for the next meal; in fact, creating everything on site, from A to Z, means that every dish that will be served requires hours and hours of preparation, improvement, slow cooking or whipping.
I have come to believe that they must have some bed hidden between the oven and the stove because, in 48 hours, I have never seen the kitchen empty!
Let me point out that the restaurant is also open to external customers. But remember to book your table!!
Ancient Cadonega Mill
Next to the farmhouse, inside the old village, I visited the "Ancient Cadonega Mill" where the flour used by our kitchen-superheroes is stone-grind by a sweet gentleman well into his 90s, Ulderico Aldini, who still spends his every day at the mill! So much energy!!
Let me just tell you that for his 90th birthday he went skydiving!!!
I would like to thank him again, should anyone ever show him this article, for giving me a kilo of his organic flour which I made delicious pancakes with, and it really moves me because it is a kg of flour made with the heart! <3
If we continue walking behind the house, we find a stunning little chapel where you can still celebrate weddings. Really fascinating!
Borgo Cadonega Relais & Spa is in a great position to visit nearby cities such as Parma, Reggio Emilia and Sassuolo, and for Ferrari fans to visit the museum and the Maranello racetrack, as we are in the heart of the Motor Valley .
But I'm really happy to have been "stuck" by the snow, because it allowed me to enjoy intensely and with the most poetic frame ever, this beautiful corner of Italy where I breathed an authentic atmosphere and I regenerated my body and mind, in every sense!
Official website: www.cadonega.it