La Bagnaia Golf & Spa Resort Siena, Curio Collection by Hilton: a medieval village turned into a charming escape!
A medieval village in Toscany turned into a charming and rejuvenating eco-luxury resort, surrounded by woods where roe deer, pheasants and hares live free.
I am very excited and honoured to tell you about my experience at La Bagnaia Golf & Spa Resort, the first hotel in Italy to join the prestigious and highly selective Curio Collection by Hilton, the global portfolio of independent places characterized by strong history and personality!
La Bagnaia: promoting the local territory and its history
12 kms from Siena and its UNESCO heritage sites, halfway between the renowned Valle del Chianti and Val D'Orcia, stands elegant and dominant on top of a hillside an ancient village called La Bagnaia.
With its little church, water wells, its stables and houses, this village was populated and active until the 1960's , mainly inhabited by families working in the fields of the Monti-Riffeser family property.
With the many economic and social changes that took place in the second half of the last century, this village, like many others, was slowly abandoned, and the Monti family employees were moved to more modern homes in neighboring villages.
A few years ago, ever-farsighted Lady Monti decided to re-qualify this incredible heritage, resorting to a warm and welcoming resort, keeping its typical Tuscan character and its flavor of past centuries unchanged. This is a marvellous example of territorial enhancement for a responsible and sustainable tourism, this is what I call eco-luxury travelling.
Curio Collection: promoting responsible and sustainable tourism
Today La Bagnaia Golf & Spa Resort welcomes tourists from all over the globe, and from May 2017, as I anticipated, it was selected to join the family of unique and hand-picked properties that make up the Curio Collection by Hilton.
As you well know, when I choose to talk about a hotel I carefully consider many aspects, and an indispensable factor to me is that it must have a strong link with the territory and its history, maintaining its authenticity and distinctiveness.
That is why I am very passionate about this unequalled Collection!
On a surface of 1,100 hectares, the resort is divided into several buildings and even in two main villages: Borgo La Bagnaia and Borgo la Filetta, linked together by shuttles available to customers 24 hours a day.
By shuttle it takes about 2 or 3 minutes to go from one "borgo" to the other, don't worry, and in these two minutes you will be overwhelmed by the beauty of the surrounding woods and meadows, where early morning you will often see the fawns burn the grass, and you will also pass in front of the fences of splendid jumping horses (let's say that a couple of times I took the shuttle just for that :))
Sleeping in a medieval village in Tuscany, Italy
La Bagnaia Golf & Spa Resort has 99 rooms and suites and each one is different, due to the fact that they could originally have been homes, stables, store rooms …
All rooms have a distinctive Tuscan style with exposed beams and thick walls, enriched by truly exceptional and sought-after furniture and details.
Lady Monti is a woman of great culture, and during her business life she has travelled around the world, developing a particular interest in the far east. Having brought home from her long journeys local antiques, admirable handicrafts and elegant inlaid furniture, every corner of the resort is embellished by these rare pieces, making each room and every corner even more striking and fascinating.
Especially because this tuscan-asian mix, though bizarre it may seem, actually matches very well!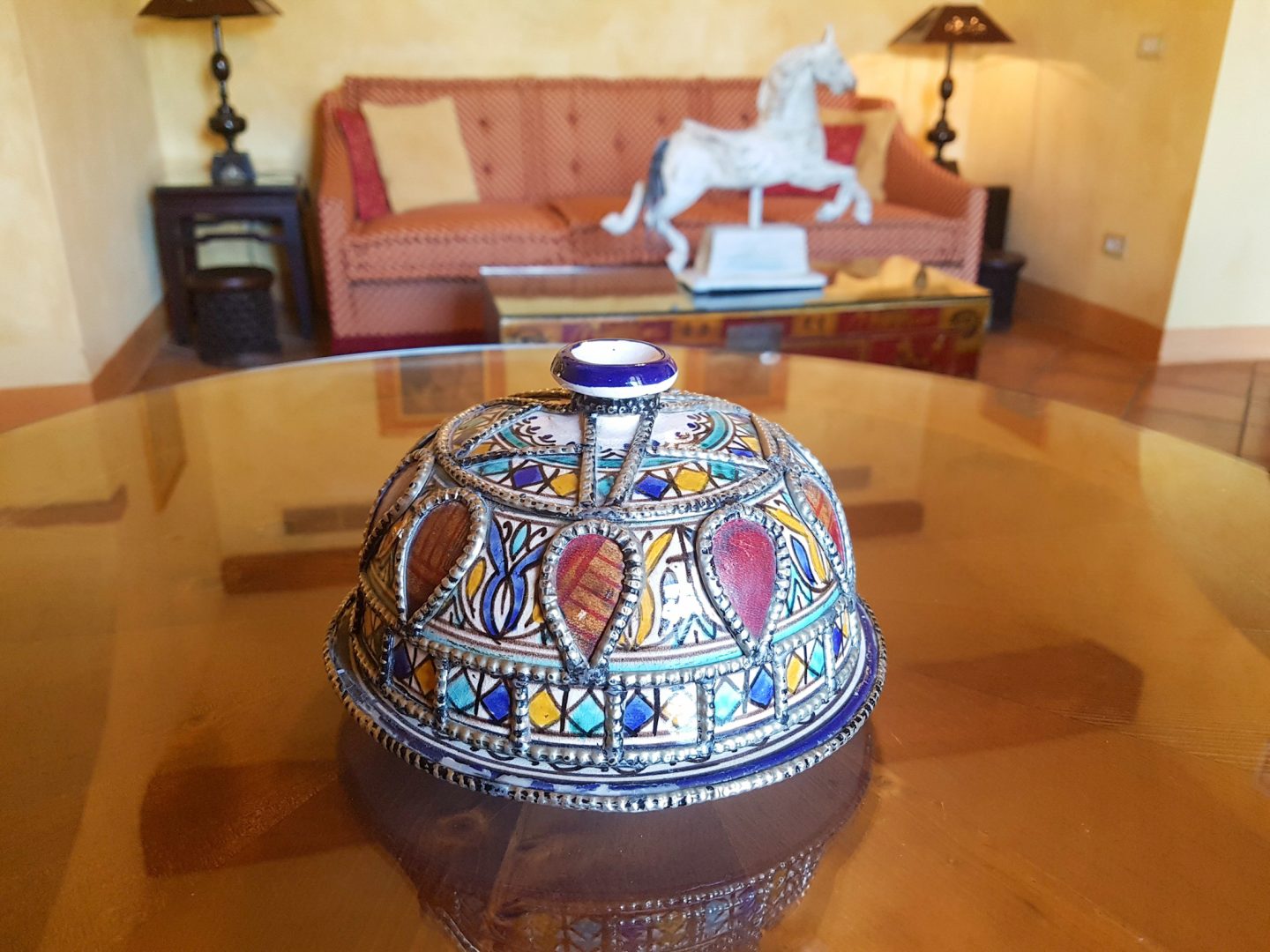 All rooms located in the villages, as well as the restaurants and the swimming pool, enjoy a relaxing view on the Tuscan countryside.
And mine was definitely veeery spacious !!
Wanderlust and day-dreams
If you have followed my IG stories during my stay at La Bagnaia Golf & Spa Resort, you will probably remember what my favorite area was: La Canonica, the oldest part of the whole village! It is right next to the medieval church of Santi Vincenzo and Anastasio, now used only for special ceremonies and weddings.
Within the Canonica, after a few steps down due to a natural sedimentation effect, there's what I would dare to call a mini-museum of Chinese statuettes, ancient copper objects, Arabic lamps that remind me of the spicy and colored souks, and my mind immediately dreams of wanderlusting in far away lands, as I sip my tea or read my book in front of the fireplace.
The best Tuscan food
In the evenings I dined at restaurant La Voliera, also warmed in red and yellow tints and large chandeliers, where I could taste traditional Tuscan recipies as well as the Chef's creations with seasonal products. Excellent!!
For lunch I would recommend the bar over the beautiful pool, which has light lunch proposals of very high quality! Look here, would you ever say I would order hamburgers? Well yes, top quality!
And of course the sight!
I recommend you not to miss the sunset time, either from the terrace of the bar or from La Voliera!
In addition, the vaste spaces and gardens are a perfect spot for outdoor workouts or a bit of yoga accompanied by birds' chirping.
Another idea that I would suggest is take the bikes available to all customers and enjoy a ride in those tuscan countryroads that look like paintings!
The Buddha Spa: wellness tourism in Italy
Now let's go to the spa, called The Buddha Spa, where we find a big golden Buddhist statue to greet us! This building was once a barn, can you believe it?
Again modernity, elegance and exotic blend in a very pleasant mix.
In fact the spa uses only high-quality Clarins products, which as you know it's one of my favorite brands, and is also embellished with authentic pieces of classical and Asian art.
And the outside pool is just spectacular!! I was speechless for a few seconds! Surrounded by nature, and therefore immersed in the most complete privacy, this natural spring has been known since Roman times for its healing properties and warm waters.
Today the spring only serves The Buddha Spa, a privilege for its customers!
And did you know that the name La Bagnaia actually comes from this place? From the ancient habit of bathing "bagnarsi" in the waters!
Royal Golf La Bagnaia: 18-hole golf course in Tuscany
Last but absolutely not least, for it's another crown jewel, I would like to point out the immense and beautiful Royal Golf La Bagnaia.
The first 18-hole golf course in Tuscany, designed by famous architect Robert Trent Jones Jr! 120 hectares of gentle hills and magnificent lakes.
This time I didn't have the chance to try golf, but I couldn't resist taking a ride on the buggy where the fields are lost to the eye!
And even if you are not golfing enthusiasts, I absolutely recommend that you go inside the golf club. Look how stunning its interiors are:
Eco-luxury travel
I have loved this place, especially as I little by little discovered its solid and unique story, hidden in every corner and every detail.
As I already told you in a long video on my IG stories, I think that when you have the fortune to come to such a place, you shouldn't just ask 'till what time is breakfast' or 'where is the pool', but rather question about the history of these places, be curious about it, let the scents of its flowers and the sound of its bells blow your mind.
Dig deeper into the culture of a place, support responsible and sustainable travelling.
Because it is by doing so that you will appreciate and utterly love these places, surpassing the superficial fall for beauty and absorbing the importance of its richness. In history and authenticity. In one word: eco-luxury travel. 
Official website: