Sports in the Dolomites!
The Dolomites are a mountain range in the northern Italian Alps, counting 18 peaks which rise to above 3,000 metres and cover 141,903 ha. It features some of the most amazing mountain landscapes in the whole world.
In August 2009, the Dolomites were declared a UNESCO World Heritage Site.
I've been coming here for over 20 yrs, each time I'm speechless like it's the first! 😍 I'm the happiest girl when I am here! 🙌💞
Adamello Brenta Nature Park is the largest protected area of Trentino, over 620k km wide🌄. It has 80 lakes and the famous Adamello Glacier🗻, one of the largest glaciers in Europe. Its fauna🌹🍄🍇🍓🌲🌰 is among the richest of the Alps, with thousands of insects🐞🐝, birds🐦🐣🐓 and other animals🐮🐷🐇🐏, including some very rare and protected like bear🐻 and steinbock!
You can do all kinds of different sports, from hiking to running, from swimming to fitness, from mountain bike to rock climbing…
In the Trentino region 🌄  there really are plenty of gorgeous medieval castels. Castel Thun is one of the most popular and stunning ones! Def worth a visit if you love art, history…and a little of fairytales! I loved it!! 🏰😍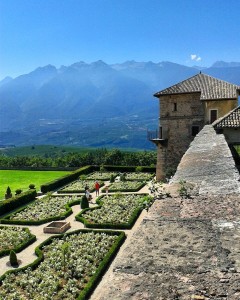 Just as beautiful, the Stenico Castle is a symbol of the power the Bishop Princes of Trento had in the region. Dating back to the medieval period, from the 13th century it became the summer residence of the bishop princes, as well as the base for the captain, responsible for the administration of this area.
My top 3 tips for visiting Trentino:
1) be ready to change your perception of time…you can leave your watch and mobile at home
2) always dress up in layers, starting from a tank top or even bikini top, to a warm waterproof jacket
3) bring the most important thing with you: respect. Towards nature, animals, locals. Oh and take part in local activities, fairs, alpine guides' tours, for you never know where mother nature hides its most precious wonders! (But the locals do know 😜) .
As always, go onto my INSTAGRAM account vivien.bass to see more pics and videos of my trip! <3